Product description

LN1134A182MR-G 4VK4
Hash board voltage domain current stabilization IC
Please check the signal of the hash board chip by yourself before making a purchase.
Model: 4VK4
Type: Voltage Regulator IC
Product Index:
Working voltage=2.0-7.0V
Output current=300mA
Static power consumption=70uA
Ripple rejection ratio=70@10KHz(dB)
Package form: SOT-23-5, SOT-353
Features:
1. The output voltage can be selected: can be selected in the range of 1.0 ~ 5.0V
2. High output voltage accuracy: accuracy can reach ±2.0%
3. Low input and output voltage difference: 300 mV typical (products with 3.0V output, when IOUT=100mA)
4. High ripple rejection ratio: 70dB (10 kHz)
5. Low current consumption: 70μA typical
6. Maximum output current: 300mA can be output (VIN≥VOUT+1v)
7. Standby current: less than 2μA
8. Built-in protection: built-in over-current protection
9. Built-in drain pipe
Package:
1. SOT-23-5L
2. USP-6B(DFNWB1.8×2-6L)
3. SOT-353/SC70-5
4. SOT-343
Other Parts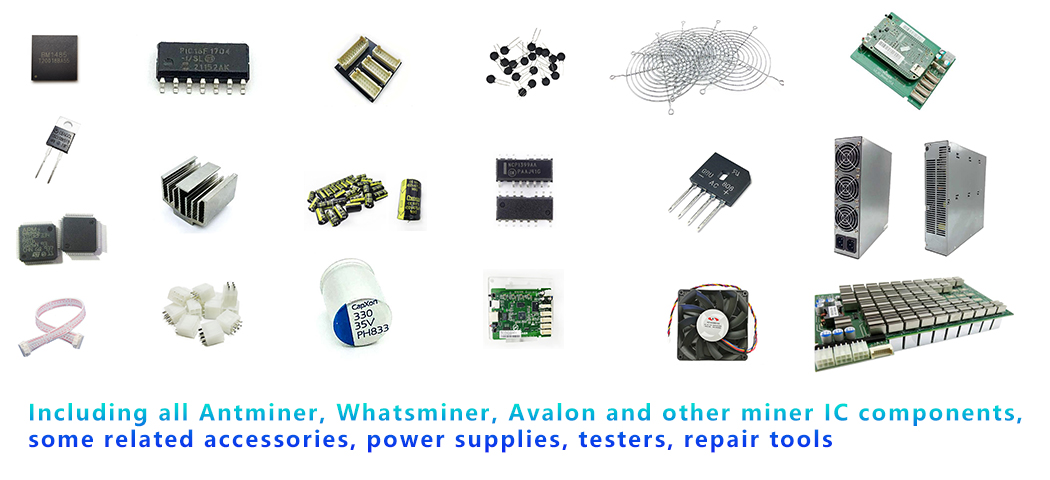 we can provide all kinds of spare parts of miners. such as PSU, fans, cable, hashboard, controlboard and so on
If you are interested in our product, please feel free to contact us.
Shipping 


We can support express shipping, including DHL, Fedex, TNT, UPS, EMS, etc. At the same time, we also cooperate with professional shipping companies. It can provide door-to-door shipping with customs duties. If you haven't imported before, we can help you out. Looking forward to your cooperation
Payment

How to determine product prices and shipping costs?
When you are ready to buy one or more products. You can consult the sales Manager to get a sample of the proforma invoice. The category, product price, and freight are included.
How to complete the payment?
We have the following payment methods. You can tell our sales Manager which payment you prefer and complete it. After the customer service checks and confirms the payment is completed. Provide the proforma invoice. And we will prepare to ship.
Payment
USDT