Product description

The DC-DC Boost Module HW-045 is an excellent way to quickly increase a given voltage, but compared with the input current, the price of this boost is that the output current is smaller.
The DC-DC boost module is used to replace the original components when an unrepairable failure occurs in the boost circuit of the hash board.
The module has an MT3608 2 Amp boost (boost) converter, which can lower the input voltage to 2V and boost the output voltage to as high as 28V. MT3608 has the function of automatically switching to pulse frequency modulation mode when the load is light. It includes under-voltage lockout, current limit and thermal overload protection. The module has a multi-turn fine-tuning potentiometer (potentiometer), which can adjust the output voltage. Since the trim pot has a 25-turn adjustment, you can easily adjust the module's output to the voltage you need.
Note:
1. The positive and negative poles of the input and output cannot be reversed, otherwise the module will be burnt out directly;
2. The limit input voltage and the maximum output current cannot be met at the same time, high voltage, high current, hot plugging cannot be used for a long time, pay attention to strengthen heat dissipation;
3. The limit output power is 10W;
4. Do not adjust the voltage with load;
5. When the boost module is in use, the input voltage is less than the output voltage;
6. When using it for the first time, adjust the potentiometer 20 times counterclockwise to increase the output voltage and then power on the operation;
7. Voltage regulation method: the potentiometer faces the chest, turn the boost counterclockwise;
8. If the module voltage cannot be adjusted and is always equal to the input voltage, please turn the potentiometer counterclockwise for more than 10 turns and then use the module to adjust the voltage.
Other Parts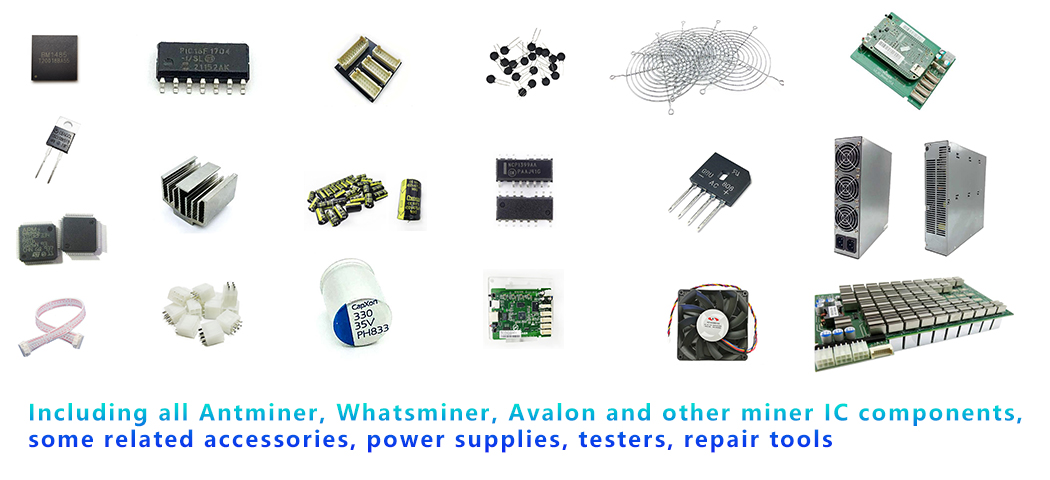 we can provide all kinds of spare parts of miners. such as PSU, fans, cable, hashboard, controlboard and so on
If you are interested in our product, please feel free to contact us.
Shipping 


We can support express shipping, including DHL, Fedex, TNT, UPS, EMS, etc. At the same time, we also cooperate with professional shipping companies. It can provide door-to-door shipping with customs duties. If you haven't imported before, we can help you out. Looking forward to your cooperation
Payment

How to determine product prices and shipping costs?
When you are ready to buy one or more products. You can consult the sales Manager to get a sample of the proforma invoice. The category, product price, and freight are included.
How to complete the payment?
We have the following payment methods. You can tell our sales Manager which payment you prefer and complete it. After the customer service checks and confirms the payment is completed. Provide the proforma invoice. And we will prepare to ship.
Payment
USDT