Product description
Antminer chipset BM1397AG chip for S17 S17 + T17 + instrument panel repair chip replacement
New official accessories
Authenticity guarantee
The Antminer BM1397AG chip supports the SHA256 algorithm, which can be used for BTC, BCH and other encrypted digital currency mining, and will be used in the next-generation SHA256 algorithm of the new Antminer S17 and T17. BM1397 adopts global TSMC FinFET technology, a single chip integrates more than 1 billion transistors, and has been continuously optimized in terms of circuit structure and low power consumption technology. The energy efficiency ratio of BM1397 is 30J/T. The high-quality Antminer BM1397AG can replace damaged chips on S17, S17+, S17Pro, T17, T17+ hash boards. Please note that we recommend that each Hash board only replace 5 damaged chips at most. Of course, Antminer BM1397AD and Antminer BM1397AI can also replace damaged chips of S17, S17+, S17Pro, T17, T17+ hash boards. These three kinds of chips are universal and can be replaced with each other.
Notice: The suffix of BM1397 series chips is not limited and will be shipped randomly.
Other Parts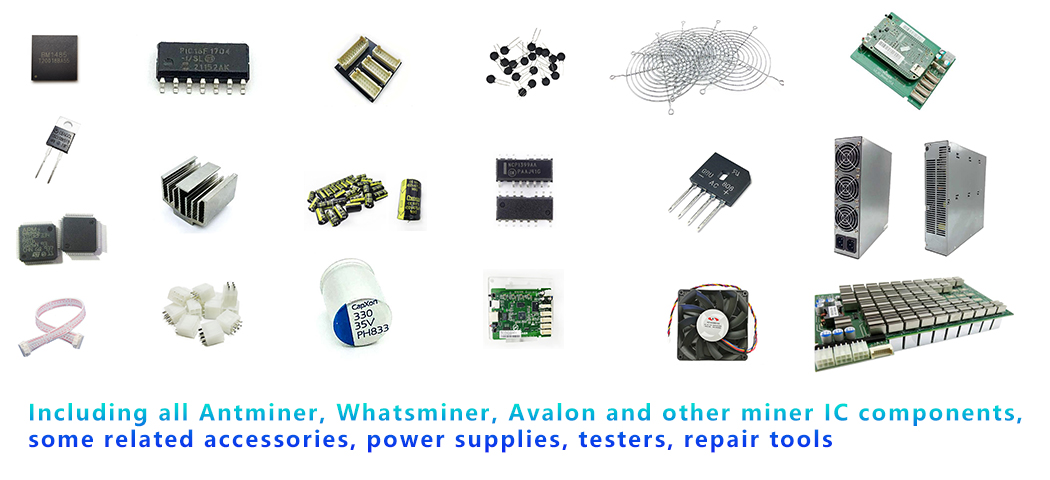 we can provide all kinds of spare parts of miners. such as PSU, fans, cable, hashboard, controlboard and so on
If you are interested in our product, please feel free to contact us.
Shipping method


We can support express shipping, including DHL, Fedex, TNT, UPS, EMS, etc. At the same time, we also cooperate with professional shipping companies. It can provide door-to-door shipping with customs duties. If you haven't imported before, we can help you out. Looking forward to your cooperation
Payment method

How to determine product prices and shipping costs?
When you are ready to buy one or more products. You can consult the sales Manager to get a sample of the proforma invoice. The category, product price, and freight are included.
How to complete the payment?
We have the following payment methods. You can tell our sales Manager which payment you prefer and complete it. After the customer service checks and confirms the payment is completed. Provide the proforma invoice. And we will prepare to ship.
Payment
USDT