Product description
Bitmain Antminer APW7 PSU  New
Bitmain APW7 1800W power supply for Antminer S9 S9I Z9 L3 + D3 T9 + E3 Innosilicon A9 D9 BTC LTC DASH.
APW7 is a new type of power supply model specially released by Bitmain for our ant miners. Compared with APW3++, the rated power of APW7 has increased by 200W, and its efficiency is 95%, an increase of 1.5%. APW7 is more power efficient and can reduce mining costs. APW7 has better heat dissipation performance, which means that APW7 can work in a higher temperature environment.
Technical index
Output:
DC voltage: 12.0V
Rated current (200-240 V input): 150 A
Rated power (200-240 V input): 1800 watts
Rated current (100-140 V input): 67 A
Rated power (100-140 V input): 800 watts
Ripple and noise: <1%
Voltage adjustment rate: <2%
Source regulations: <1%
Load regulation rate: <1%
Setting, rise time: <2 seconds
Power failure protection trip time:> 10 milliseconds
Input value
Voltage range: 100-140 VA/degree Celsius
200-240 VA/degree Celsius
Frequency range: 50-60 Hz
Power factor:> 0.99 (full load)
Leakage current: <1.5 mA 220 V 50 Hz)
Surroundings
Working temperature: -20°C-50°C
Working humidity: relative humidity 20%-90% (no condensation)
Height: <2000 m
Structure
Dimensions: 220 x 108 x 62 mm
Weight: 2.0 kg
Cool down
Fan: forced air cooling
Noise: 43 decibels
Package parameters
Notice: 8 units in a box, 4 on the upper layer and 4 on the lower layer.
Box size: 535mm*327mm*360mm
Net weight of one power supply: 1.65KG
Gross weight of the whole box: 15.5KG (8 power supplies and box weight)
Other Parts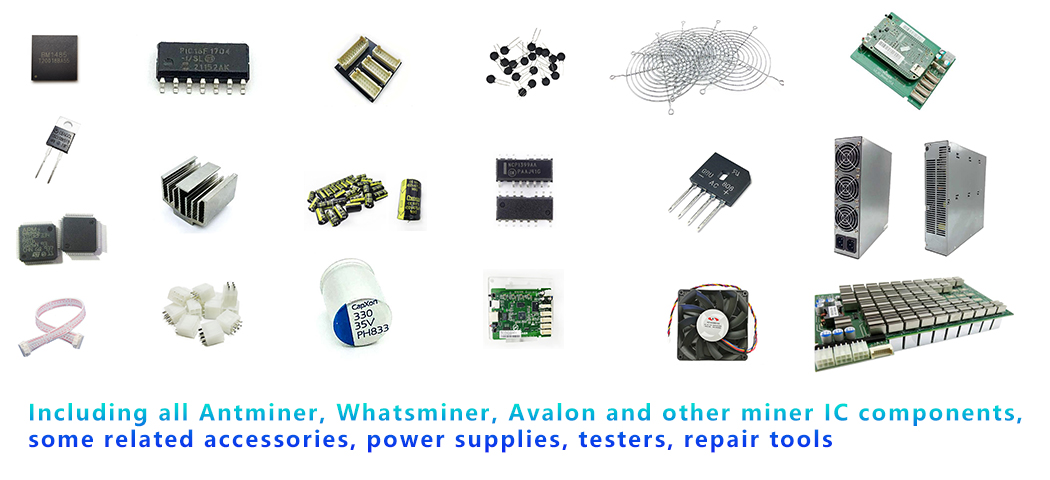 we can provide all kinds of spare parts of miners. such as PSU, fans, cable, hashboard, controlboard and so on
If you are interested in our product, please feel free to contact us.
Shipping 


We can support express shipping, including DHL, Fedex, TNT, UPS, EMS, etc. At the same time, we also cooperate with professional shipping companies. It can provide door-to-door shipping with customs duties. If you haven't imported before, we can help you out. Looking forward to your cooperation
Payment

How to determine product prices and shipping costs?
When you are ready to buy one or more products. You can consult the sales Manager to get a sample of the proforma invoice. The category, product price, and freight are included.
How to complete the payment?
We have the following payment methods. You can tell our sales Manager which payment you prefer and complete it. After the customer service checks and confirms the payment is completed. Provide the proforma invoice. And we will prepare to ship.
Payment
USDT